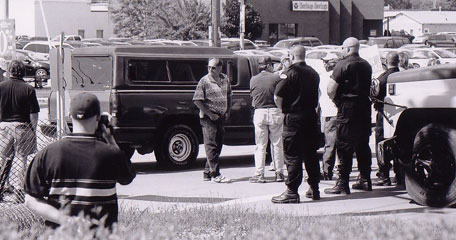 Security Concepts personnel are experienced at laying forward a security strategy before a strike occurs. The team is skilled in both the development and execution of strike contingency plans, while simultaneously safeguarding individuals and property, and keeping company doors open allowing you to meet critical timetables and business objectives. Our labor dispute agents are trained in crowd control tactics and are experienced in effectively diffusing hostile situations. Security Concepts also provides professional planning and protection during high-risk terminations and potentially violent work place situations When a Security Concepts strike security team comes to your site to manage a labor management dispute, you can expect them to arrive with disciplined labor strike preparation and ready to provide professional labor dispute protection, consistent with your strike security objectives. With Security Concepts, one of the countries leading Strike Security Companies, you can minimize the costly disruptions to your business during a labor strike and provide the necessary protection to your salaried employees, executives, as well as safety for replacement workers or your temporary labor force.
The Security Concepts labor unrest security team has these key responsibilities:
Facility perimeter protection during the dispute Provide labor dispute management/law enforcement liaison Videotaping picket line activities to gather evidence for injunctive relief Security threat assessment/executive protection Maintaining the strike logs Escorting employees and vehicles safely in and out of your labor strike site
Proven Effective Strategies
In the face of labor disputes or downsizing, protecting you, your employees, your assets and the continuity of your business are our primary objectives. To accomplish these objectives, Security Concepts has developed a philosophy of effectively managing disputes based on time-tested strategies. These strategies guide our operations:
1. Develop a thorough understanding of your situation and needs, assess your security vulnerability in a labor dispute.
2. Blend seamlessly into your environment while presenting an effective deterrent to confrontation or violence.
3. Managing pre-strike, strike and post-strike activities from start to finish in a way that minimizes the potential for violence and creates an environment conducive to a successful resolution of issues.

Combining these strategies with the flexibility, professionalism and commitment of our strike security teams contributes to a successful outcome that meets your business objectives.
Strike Security - It's Our Reputation on the Line
Our "high visibility, low confrontation" approach to strike security begins the moment your management team, employees and union officials see the Security Concepts Security name. Our uniformed strike security officers are personnel with extensive experience on the picket line. They undergo specialized training for each deployment. We position our security officers in highly visible locations. And, using strategically placed video cameras, we thoroughly document picket line behavior to support any terminations, disciplinary actions or Labor Relations Board hearings related to the strike. These measures, combined with our thorough understanding of picket line behavior, allow us to prevent most problems from ever occurring. When a strike occurs – whether expected or unexpected – Security Concepts's strike security professionals can rapidly respond to secure your facilities, deter strike-related violence and support your continuing operations with:
Picket Line Security
Our highly specialized strike security officers are trained to deter picket misconduct and, when necessary, keep driveways clear using defensive formations.
Property Protection
Designed to help prevent sabotage and/or vandalism to your facility and equipment through high visibility and deterrence.
Mobile Protection
Dedicated to protecting drivers, trucks and other mobile assets by deterring misconduct on the road.
Evidence Collection
Highly specialized officers are trained in investigative and evidence gathering techniques, including documenting evidence of picket line misconduct for use in injunctions, restraining order hearings or for employee disciplinary purposes.
Command and Control
Experienced site management teams can coordinate every aspect of your strike security operation.
Executive Protection
Our highly trained agents provide low-profile security to company owners, managers and/or family members who may be targeted for harassment during a labor dispute.
Contingency Planning
Security Concepts pre-strike contingency plans focus on keeping your company operational – no matter how severe the labor dispute. Our plans are comprehensive. They address all issues, including the need for hiring replacement workers, outsourcing selected services, stockpiling raw materials or finished goods, strike security and more. Our plans are also fully customizable. Applying experience gained from labor disputes across almost every industry – we can help you develop a plan that meets your company's specific operational needs.
Our contingency planning can support your organization in any of three ways:
Not sure where to start? Plan Development
Our experienced labor dispute consultants will assist in the development of every aspect of your plan. They suggest a structure, detail strategies and tactics, and provide recommendations based on "best practices" developed managing scores of strikes every year.
Looking to streamline your process? Plan Facilitation
Our professionals will meet with your entire management team, or with individual members, to answer questions or address specific strike related problems.
Need an objective assessment of your fully developed plan? Gap Analysis
Our experts will perform a gap analysis on your complete or nearly complete plan to identify areas that have not been addressed, and to suggest alternative tactics that can be more readily executed.