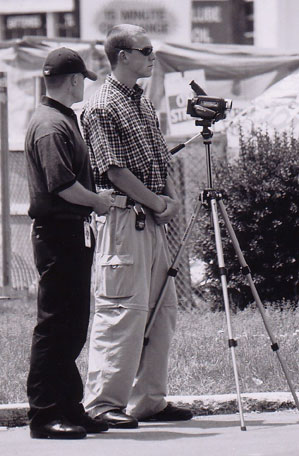 Security Concepts and Investigations has developed an investigation division that sets the standards for the industry. Our primary objective is to provide our clients with the finest investigative services available. We are acutely aware that our services must be cost effective. With this in mind, each investigator is required to have a minimum of five years experience. We do thorough background investigations for each applicant to assure that he and/or she has always demonstrated high ethical standards.

To ensure cost effectiveness and the highest ethical standards they are trained in recent court decisions and a variety of subjects, including the laws of the various provinces in which they are licensed. They also received courses in the proper methods of confidential surveillance. Quality control is in place for each case assignment. Cases are reviewed weekly by management to assure that each case is pursued in an efficient and timely manner. At the closure of each case, a review is conducted by management to make certain that our quality standards have been met.

Our Investigative Division's success and growth is the result of proper application of experience, with integrity, tailored to the individual needs of our clients. Because every client's needs are different, we offer a wide range of investigative services that meet our clients' immediate or long range requirements:
Computer Forensic Services
Background Investigations
Insurance Claims Investigations
Consulting Services and Surveys
Internal Survey Operation
Domestic Disputes, Cheating Spouses
Background Investigations
Money, time and energy are spent in order to train new employees with the assumption that they have already met certain qualifications for the position. Unfortunately, more and more applicants are falsifying their credentials to appeal to personnel departments. Security Concepts and Investigations is capable of investigating the backgrounds of such individuals to determine honesty, integrity and loyalty. An investigator from Security Concepts and Investigations will verify employment histories as well as social and financial records of potential job candidates. The investigator will also interview pertinent individuals associated with the employer.
Each investigator has a network of information available to him and/or her. This, in turn, will benefit the client by accelerating the process of locating victims.
Insurance Claims Investigations
Security Concepts personnel specialize in workmen's compensation, malpractice, fire and product/auto liability cases. Extensive research is completed and a thorough report submitted on the data resulting from documents collected, observations made and photographs obtained.
Consulting Services and Surveys
Our physical security specialists have provided consultant services for over 25 years to numerous Fortune 500 Corporations. Our specialists will analyze and evaluate your current security systems through in-depth inspections, interviews with management personnel, supervisors and the security force. Review security instructions, orders, emergency plans, facility policies and procedures. From this study a comprehensive security survey will result and a written report will be submitted. Our survey is ideal for companies which are just beginning operations, are in the process of an acquisition or are planning to alter routines in the Security/Safety Department. Our consulting services and surveys are available during daylight and evening hours.
Internal Survey Operation
Undercover investigation services have been employed by industries and businesses for many years. This service is regularly used when a specific problem must be defined and resolved. It is also regularly employed by client management to provide general operating insights that can not be obtained in any other manner. On any given occasion, it is not unusual for Security Concepts and Investigations' investigative staff to be involved in numerous investigations of this type.
Domestic Disputes/cheating Spouses
Infidelity is likely to be one of the most painful and devastating things that can happen to you. The embarrassment, fear and betrayal can be overwhelming. Worse yet is not knowing if your spouse or partner is cheating on you. Even the prospect of a husband or wife being unfaithful is painful and extremely disruptive to your life. The private investigators at Security Concepts understand what you are going through and are committed to helping clients like you with these issues everyday and to get the proof you need. We know that you need a private investigator to get you proof of infidelity or adultery so that you can move forward with your life.
Statistics say that 85% of women who feel their lover is cheating are correct and 50% of men who feel their lover is cheating are right.